IFCA Foreign Student Center
Founded upon the sole objective of promoting genuine international goodwill, the center furnishes the female foreign student, who arrives in Japan with one suitcase, with necessary furniture and amenities so that they can start living from the day of arrival without discomfort nor inconvenience. In addition to the six single rooms, there is a friendly dining area and kitchen, serving as a gathering place and fostering international friendship among the youths while living under a single roof.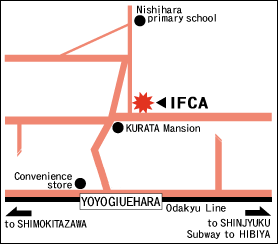 International Friendship Culture Association 1F
3-37-9 Nishihara Shibuya-ku
TOKYO 151-0066 JAPAN
Phone 03-3468-6188
Message from IFCA Dormitory Residence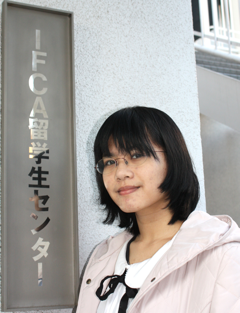 Hello! My name is Iona. I am a 4-year degree freshman student at Sophia University's Faculty of Liberal Arts studying International Business and Economics. My passport says that I am Indonesian, but I cannot completely say that I am Indonesian. I was born in England, and grew up in France, Indonesia, United States, and Cambodia. Japan is now my 6th home, and to me, the best out of all the countries I have ever lived in. IFCA no doubt, quickly took its place in my heart and became my second home. IFCA's Foreign Strudent Center was one of the recommended places to live in by my university. In fact, even the Japanese Ambassador to Cambodia agreed that it is located in a very good and safe neighbohood.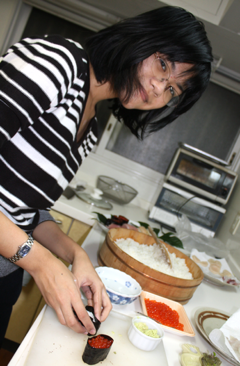 Iona making sushiComing to Japan had always been a dream of mine ever since I was still in elementary school. Deciding to study abroad in Tokyo was the best decision I made in life. I arrived in Japan in September 2011. My parents at first had a hard time letting go of me as it is my first time living by myself. However, after getting to know the IFCA community during my welcome party, they were reassured that I'm going to be alright. The IFCA community's warmth and support truly lives up to its goal of international friendship.

I am currently teaching IFCA's Wednesday night conversation class. Do not hesitate to come and check out the classes. Besides, it's not every day that you find an English class that ends the lesson with tea and snack.
To a good stay in Japan,
Iona Adam Sastromihardjo
Address
3-37-9 Nishihara, Shibuya-ku, TOKYO 151-0066 JAPAN
Management
International Friendship Culture Association
Phone:03-3468-6188
Head Officer
Michiko Matsumoto ( General Director )
For Lodgers
03-3468-6188 ( 8:00am-10:00pm )
Qualification
Female Students or single females from overseas.
Capacity
6 units.
sketch a floor
Size
13.2m2
Expenses
Guarantee same amount of 1 month rent.
Rent 61,000-68,000 Yen/M ( Including utility expenses )
Facilities
Private
Bedding, Refrigerator, Desk, Chair, TV Table, Lamp, Cabinet, Closet.
Facilities
Common
AC. Kitchin ( WT All Appliances ), 3 Bathrooms,
Cupboard, Washing machines, Dryers, Dishwasher, Etc.
Temporary stay
Available, from one week.
Welfare
The Administrative Section
of the Association gives information and advice to residents.
Activities
Regulations
Residence period=minimum 1 year. Curfew is decided by residents.
Residents are expected to join the activities
of the International Friendship Culture Association.
Application
Apply to the Association throughout the year. Interview only.